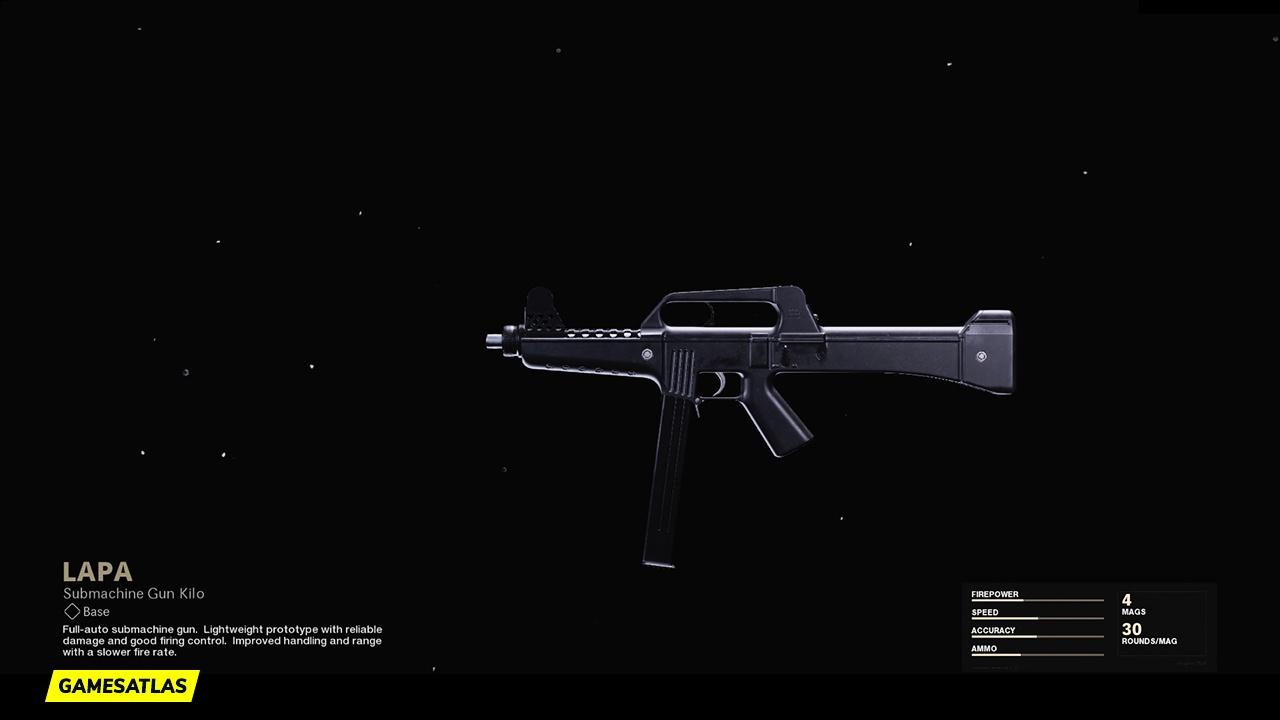 Game

Black Ops Cold War

Weapon Class

SMGs

Phonetic Alphabet

Lima

Release

Season 6 (BOCW)

Weapon Type

Primary Weapon

How To Unlock

Complete all of The Haunting Event's Challenges in either Cold War or Warzone
LAPA Weapon Description
The LAPA was added to Black Ops Cold War and Warzone on October 19, 2021, as part of the free content included in Season Six.
Full-auto submachine gun. Lightweight prototype with reliable damage and good firing control. Improved handling and range with a slower fire rate.
Get your hands on the prototypical LAPA through The Haunting Event, both as an event reward, or in a Store Bundle via Weapon Blueprint.
How To Get the LAPA in Warzone and Cold War
To unlock the LAPA you must complete all the 9 The Haunting Event's Challenges in either Call of Duty Black Ops Cold War or Warzone.
LAPA Blueprints List
LAPA Statistics
Damage

35.00

Effective Damage Range

15.24

m

Fire Rate

697.00

RPM

Bullet Velocity

231.00

m/s

Vehicle Damage

26.00

Melee Quickness

1,000.00

ms

Movement Speed

10.80

mph

Sprinting Move Speed

14.80

mph

Shooting Move Speed

10.26

mph

Sprint to Fire Time

300.00

ms

Aim Walking Movement Speed

8.55

mph

Aim Down Sight Time

250.00

ms

Vertical Recoil Control

252.00

j

Horizontal Recoil Control

208.00

j

Centering Speed

7.00

ft-lb

Idle Sway Control

22.50

Fc

Flinch Resistance

10.00

N

Hip Fire Accuracy

7.00

mils

Magazine Ammo Capacity

30.00

Reload Quickness

2.40

s

Max Starting Ammo

120.00

Ammo Capacity

180.00

Reveal Distance

0.00

m

Muzzle Flash Concealment

1.00

s