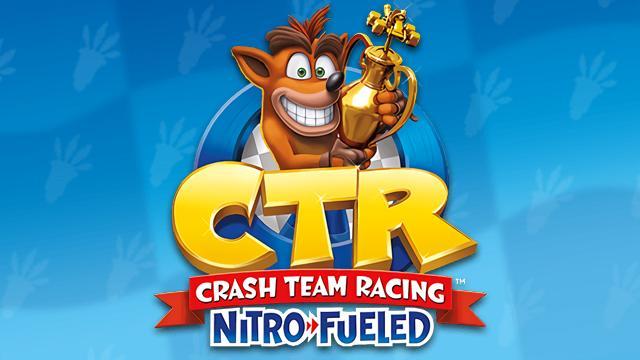 Crash Team Racing Nitro-Fueled brings the legendary kart racer back in HD with competitive online gameplay for its 20th Anniversary.
Activision has announced that a Crash Team Racing remaster is real, and already has a release date!
After stopping Doctor Neo Cortex once more in the N. Sane Trilogy, Crash Bandicoot is ready to take his victory lap in Crash Team Racing Nitro-Fueled, which will be released on June 21, 2019 for PS4, Xbox One, and Nintendo Switch,
Developed by Beenox, this authentic Crash Team Racing experience has been remastered in stunning HD and refueled with all new content, including online multiplayer racing.
In this game, players can put the pedal to the metal with Crash, Coco, Dr. Neo Cortex, and other familiar faces from the Crash Bandicoot series as they race against the self-proclaimed "fastest racer in the galaxy" Nitros Oxide for the fate of the planet!
All characters, karts, tracks, and arenas from the original Crash racing game return in HD, with Crash and friends' expressions and antics remastered in modern detail as they blast each other with power-ups and power slide around corners.
In the new game, Adventure, Arcade Single Race and Cup Race, Time Trials and Battle Mode are back. Play Crash Team Racing Nitro-Fueled single player or vs. friends both online and offline. The original soundtrack has been remastered as well.
"Not only are we revamping Crash Team Racing from the kart up in Crash Team Racing Nitro-Fueled," said Thomas Wilson, Co-Studio Head at Beenox, "We are giving fans a whole lot more including all the characters and tracks they love, with tons of added animations and personality that the original platforms just couldn't convey. We can't wait to see fans go head-to-head as they test their Crash kart racing mettle in online multiplayer."
Those who want to kick their Crash Team Racing Nitro-Fueled experience into the highest gear can pre-order the Nitros Oxide Edition of the game, a digital deluxe edition that makes Nitros Oxide a playable character in all modes from day one. Players who purchase this version will also receive the full game, Oxide's Hovercraft kart, space-themed character skins for Crash, Coco, Cortex, and much more to be announced.
Players who do not purchase the Nitros Oxide Edition can earn the Nitros Oxide character and Oxide's Hovercraft kart by completing some of the fiercest challenges in the Adventure Mode.
The standard edition of Crash Team Racing Nitro-Fueled is available for pre-order right now for a suggested retail price of $39.99, and the Nitros Oxide Edition is available for pre-order at a suggested retail price of $59.99.