Achilles is a challenging foe in the quest A Real Heel. Skills are needed, for sure, but the correct stats and abilities can turn this fight into a walk in the park.
Getting to the Achilles demands Stamina and patience, but defeating the corrupted hero takes an excellent strategy and the right tools.
This fight is long. Losing when Achilles is almost dead is very frustrating. That's why it is necessary to have a good plan before facing this challenge.
The Right Ability for the job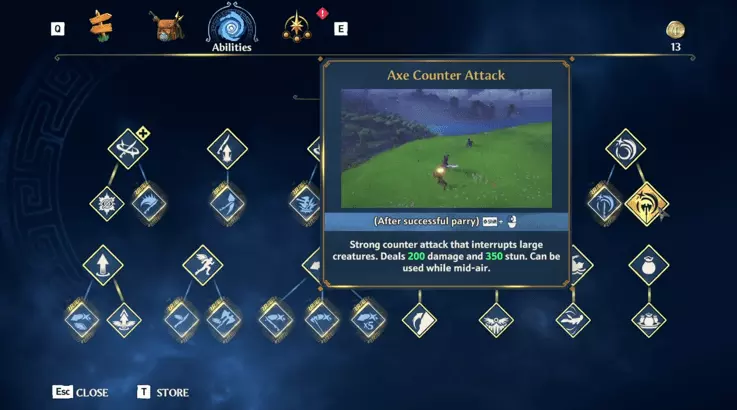 Many strategies can be used to defeat the boss, but for this one, the Axe Counter Attack is absolutely needed.
It is going to cost 5 Coins of Charon, but it is worth the cost. With that, Achilles can be staggered much faster.
The task requires a good axe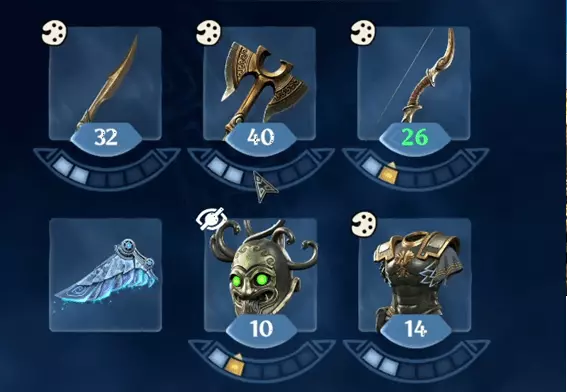 There is no need for specific axes or swords, but having them upgraded at least once will be very helpful.
Of course that having better weapons do not hurt. So just bring whatever you have that deals the most amount of damage.
Final preparations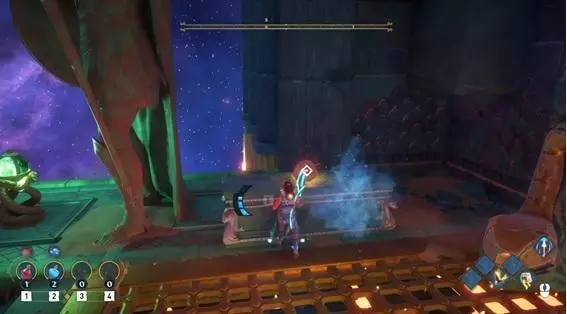 It's a long way until you reach the boss battle. So if you don't arrive in one piece, check on the left, before the door that leads to Achilles, to get your HP back up.
After that, it's time to defeat the boss.
The Spear Throw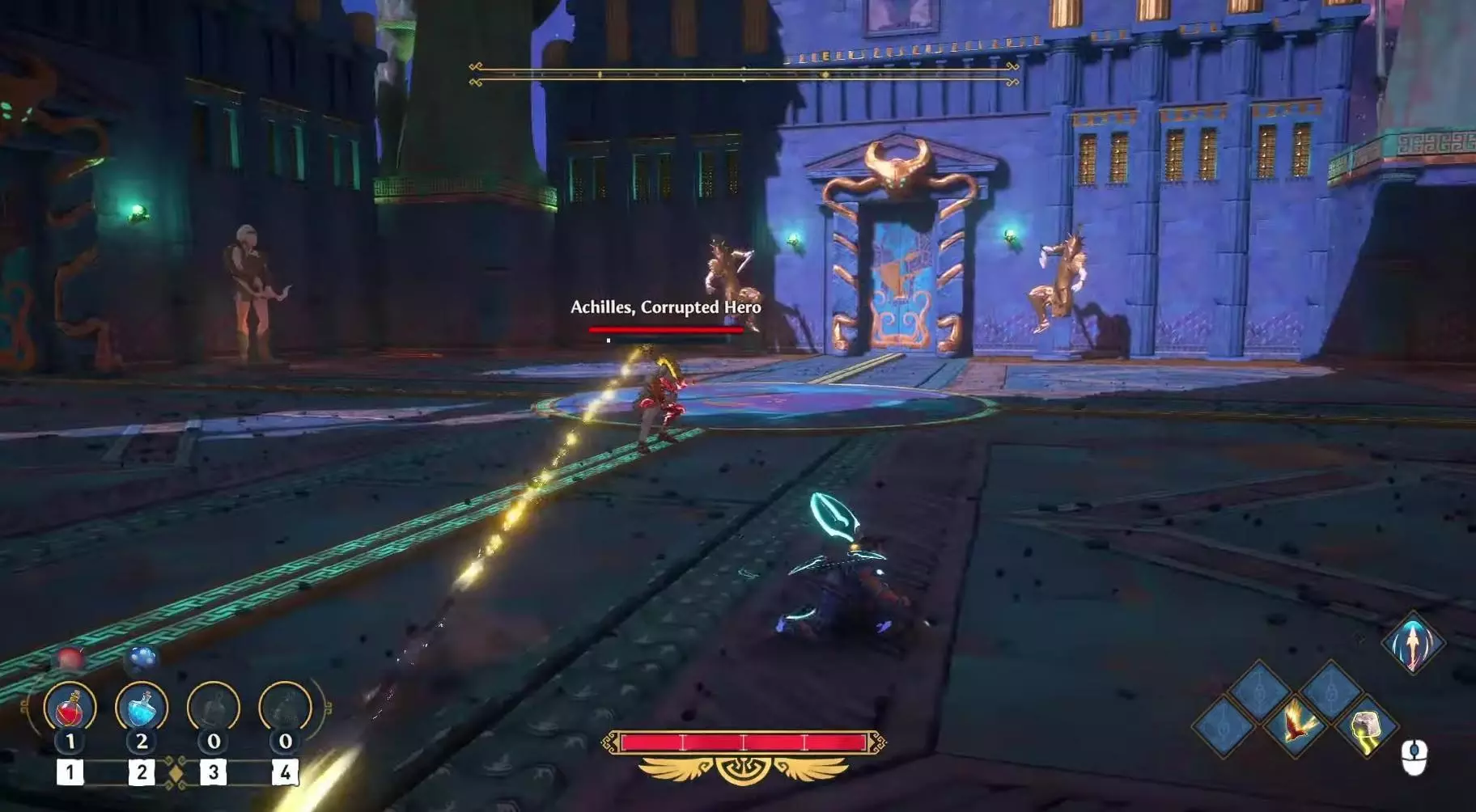 Achilles does not waste any time. Often, he throws a spear as soon as the fight begins.
Just dodge it and approach him. The Spear Throw is not much of a problem.
Do not attack him yet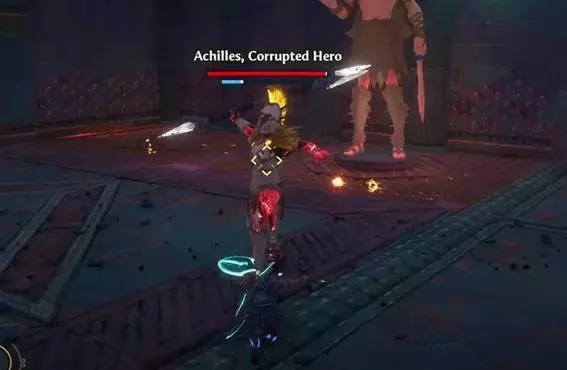 Now the goal is to get close to him and wait. Being patient here will be rewarding. By letting Achilles attack, players have more time to focus on his animations.
The idea here is to be ready to react to his attack at the right moment by minimizing the chance of committing a mistake. Locking on him makes the task easier.
Parry, Attack, and Wait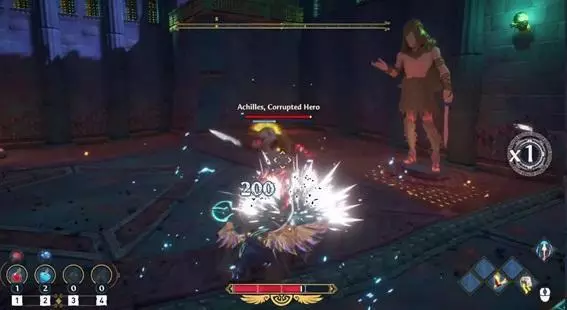 The strategy here is quite simple. Do not attack, only counter-attack. Wait, parry at the right time, deal some damage, and back up to do it again.
Attacking him before parrying creates a window of vulnerability that Achilles can use to deal a lot of damage.
The Red Attack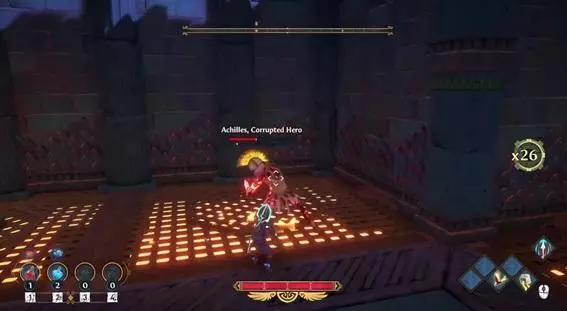 Sometimes Achilles lights up and does a horizontal slash. That is the attack that makes the battle more challenging because trying to parry it will always be a bad idea.
Before performing the horizontal slash, the Corrupted Hero turns back and lights up. The wisest decision here is to dodge.
Repeat it until he is stunned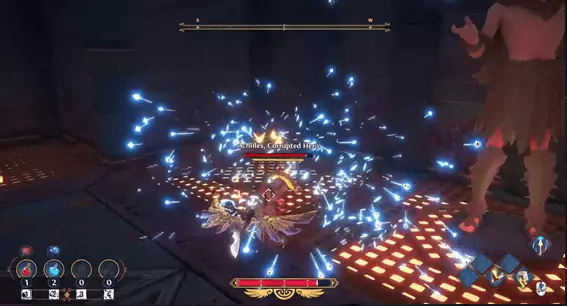 When Achilles is on his knees, it's time to deal as much damage as possible. It's also a good idea to use this time to heal as needed.
Lather, Rinse, Repeat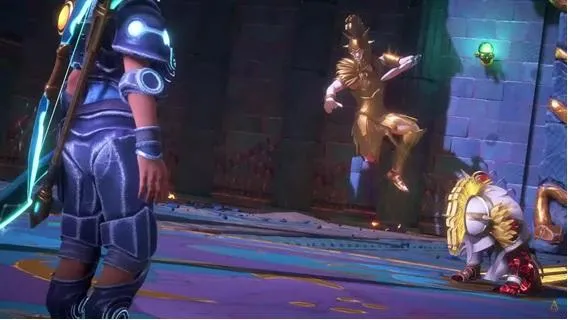 A defensive strategy is very functional in this situation. That's the best way to punish him every time he swings his weapon.
Although it causes this boss fight to feel a bit repetitive, relying on the Axe Counter Attack is an effective way to have him defeated.
If you want to see in details how to find Achilles and watch the battle in motion, make sure to check FireSpark81's video on how to defeat Achilles in Immortals Fenyx Rising:
So, did you manage to beat Achilles now? Do you have a better strategy to face the Corrupted Hero? If you do, I'd love to read about it. Please let me know how you managed to defeat Achilles in the comment section below!