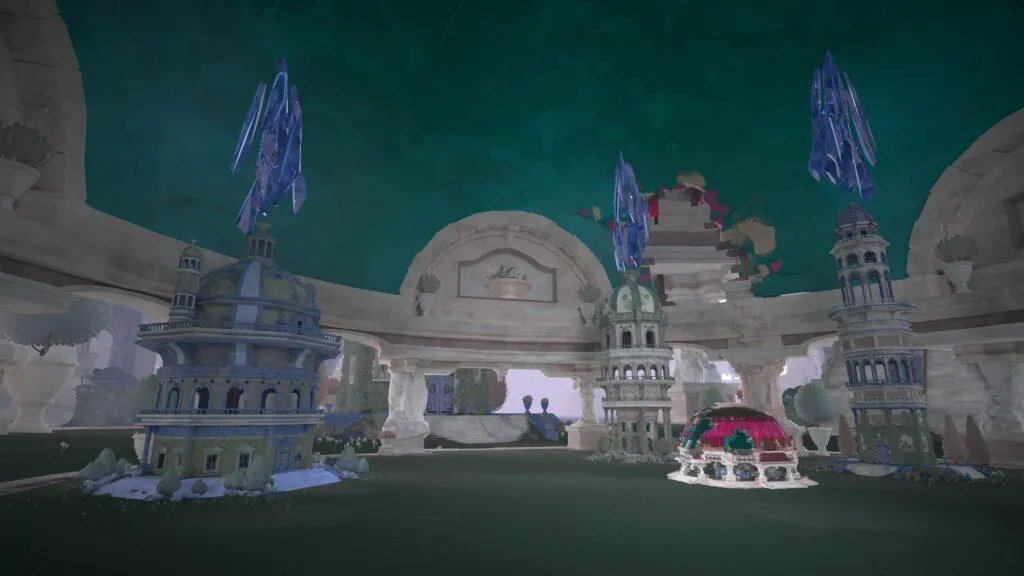 Maquette is a new game from Annapurna Interactive and Graceful Decay and is available now on both current Sony consoles and PC. If you are a PlayStation Plus member, you can get the PS5 version of Maquette at no additional charge during March 2021.
This first-person puzzle game has some tricky puzzles, and you may need a helping hand in the last chapter of Maquette.
If you are struggling with a Maquette puzzle, this guide that we have prepared is for you. Please note that this guide contains explicit solutions to the puzzles, but there are no story spoilers.
Also, if you need help on the earlier chapters of Maquette, you can find those articles here at GamesAtlas.
How to Solve Maquette Chapter 6: The Exchange
You will now be in a new area with the dome surrounded by rocks.
Raise the dome and move it towards the stairs of the dead tree.
Go up the stairs and pull the lever.
Next, lift the dome and move it to the tower with the butterflies outside.
Interact with the owl ornament on the building. When you pull the lever here, you will start a timer, and you must reach the building opposite before the door closes.
This is impossible unless you use the dome. So pull the lever, go out and raise the dome, move it to the building you need to reach, lower it and enter.
Interact with the crystal there. It comes out again, and a needle will appear.
Enter the dome and stand on the plate in front of the spire.
Rotate the needle sections to match the floating rock symbols, and another needle will appear.
After the appearance of the other needle, you drink to place the dome in such a way that, when it stands on the plate, you can see the symbols on the floating rocks. Move the dome to the other side of the spire with the large hole facing you so you can see the new set of symbols.
After this, a new building will open. Head there and interact with the bell, which will make some rocks appear - place the dome on the biggest rock. This will allow you to go up the ramp in the nearby building and get to the sketchbook. Once done, go back to the stairs that lead to the tree and climb towards it, and you will see the end credits.
---
Also, do not forget to visit our guides section, where you will find the guides to the best and most current games on the market. Will you let someone tell you? Do you want to be the first to know everything? Well, don't hesitate to search for more here at GamesAtlas.