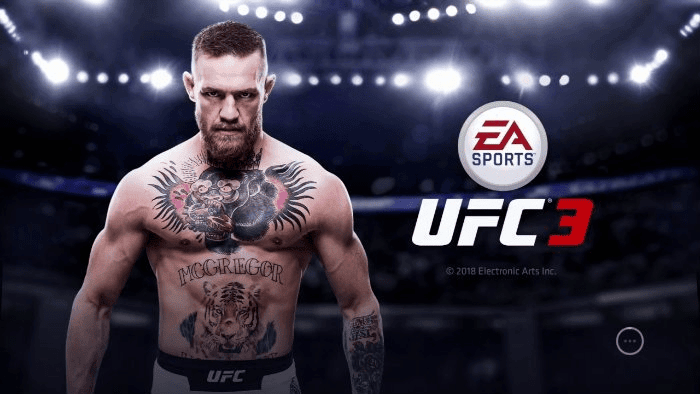 EA Sports UFC 3 is the sequel to the previous two games in the series, which was released for PlayStation 4 & Xbox One on February 2nd, 2018, and is the prequel to EA Sports UFC 4. Like before, the game houses a huge roster of talent from the past and present.
Ring announcer Bruce Buffer, Referees Herb Dean, Dan Miragliotta, Yves Lavinge & Mario Yamasaki, and color commentator Joe Rogan all return to fulfill their roles from the previous games, whilst now being joined by Jon Anik, who replaces Mike Goldberg as the main commentator, and Knockout Mode exclusive commentator Snoop Dogg, who can either do commentary alone, or be with Joe Rogan in the mode as options.
The game features 306 fighters (counting alternate versions) and 12 arenas. As of now, the game features 267 unique fighters, thanks to patches and fighter updates, with 39 alternate versions of existing fighters. An additional 22 fighters can be created to boost the roster to 328 should the player choose to do so. The arenas are as follows: Bell Centre; Honda Center; Jeunesse Arena; Madison Square Garden; MGM Grand; O2 Arena; Prudential Center; Saitama Super Arena; Scotiabank Arena; T-Mobile Arena; Toyota Center; United Center.
Of course, the game features unlockable fighters. You can unlock Bruce Lee by either purchasing him from the Store, completing Career Mode, or have save data from the previous game. Joe Rogan can be unlocked by winning a Sudden Death Rules match (with one bar of health for both fighters) in Knockout Mode with Georges St-Pierre via a Spinning Side Body Kick (L2/LT + L1/LB + R1/RB + Kick) on Normal difficulty. Bruce Buffer can be unlocked by winning the tournament (that you must create) named after him with Strict, MMA & Middleweight rules turned on. Once the tournament's made, autofill the brackets, and if done right, you'll hear Bruce Buffer yell "It's Time!". Win the tournament as Bruce Buffer to unlock him for usage in all the other modes.
The roster is as follows:
Women's Strawweight: (Combined Weight: Women's Bantamweight)
Alexa Grasso (NEW)

Alexandra "Stitch" Albu

Alex "Astro Girl" Chambers

Angela "Overkill" Hill (NEW)

"Rowdy" Bec Rawlings

Carla "Cookie Monster" Esparza

Cláudia "Claudinha" Gadelha

Cynthia Calvillo (NEW)

Felice "Lil' Bulldog" Herrig

Jessica "Jag" Aguilar

Jéssica "Bate Estaca" Andrade

Jessica Penne

Joanna Jędrzejczyk

Joanne "JoJo" Calderwood

Juliana "Ju Thai" Lima

Kailin Curran

Karolina Kowalkiewicz

Mackenzie Dern [11th Update] (NEW)

Maryna "Iron Lady" Moroz

"The Karate Hottie" Michelle Waterson

"12 Gauge" Paige VanZant

Randa "Quiet Storm" Markos

"Thug" Rose Namajunas (Champion)

Tecia "The Tiny Tornado" Torres
Women's Bantamweight: (Combined Weight: Women's Bantamweight)
Alexis Davis

Amanda "The Lioness" Nunes (Champion)

Ashlee Evans-Smith

Bethe "Pitbull" Correia

"Alpha" Cat Zingano

Cris Cyborg

Germaine "The Iron Lady" de Randamie

Holly "The Preacher's Daughter" Holm

Jessica "Evil" Eye

Julianna "The Venezuelan Vixen" Peña

Ketlen "Fenômeno" Vieira (NEW)

"Lucky" Lauren Murphy

Leslie "The Peacemaker" Smith

Liz "Girlrilla" Carmouche

Marion "The Belizean Bruiser" Reneau

Miesha "Cupcake" Tate

Raquel "Rocky" Pennington

"Rowdy" Ronda Rousey '15

Sara McMann

Valentina "Bullet" Shevchenko
Flyweight: (Combined Weights: Lightweight, Openweight [Tournament only])
Ben "10" Nguyen (NEW)

Brandon "The Assassin Baby" Moreno (NEW)

Demetrious "Mighty Mouse" Johnson (Champion)

Dustin Ortiz

Henry "The Messinger" Cejudo

John "The Magician" Dodson

John "Chicano" Moraga

Joseph Benavidez

Jussier Formiga

Justin "Tank" Scoggins

Louis "Da Last Samurai" Smolka

Ray "The Tazmexican Devil" Borg

Sergio "The Phenom" Pettis

Tim Elliott

Wilson Reis
Bantamweight: (Combined Weights: Lightweight, Openweight [Tournament only])
Aljamain "Funk Master" Sterling

Bruce "The Dragon" Lee '73 [DLC/Unlockable]

Bryan "Kid Lightning" Caraway

Chris "Holds it Down" Holdsworth

Cody "No Love" Garbrandt

Demetrious "Mighty Mouse" Johnson (BW)

Dominick "The Dominator" Cruz

Eddie Wineland

Frankie Saenz

Iuri "Marajó" Alcântara

Jimmie "El Terror" Rivera

Joe "One Bad Mofo" Soto

John "The Magician" Dodson (BW)

John "Hands of Stone" Lineker

Johnny Eduardo

Marlon "Magic" Moraes (NEW)

Mitch Gagnon

Raphael Assunção

"Sugar" Sean O'Malley [10th Update] (NEW)

Thomas "Thominhas" Almeida

T.J. Dillashaw (Champion)

Tom "Fire Kid" Duquesnoy [1st Update] (NEW)

"The California Kid" Urijah Faber
Featherweight: (Combined Weights: Lightweight, Openweight [Tournament only])
Alex "Bruce Leroy" Caceres

Arnold "Almighty" Allen (NEW)

"The Prodigy" BJ Penn

Brian "T-City" Ortega

Bruce "The Dragon" Lee '73 (FeW) [DLC/Unlockable]

Chad "Money" Mendes

"The Korean Zombie" Chan Sung Jung

Charles "Do Bronx" Oliveira

Charles "Boston Strong" Rosa (NEW)

Clay "The Carpenter" Guida

"The Notorious" Conor McGregor

Cub Swanson

Daniel "The Hangman" Hooker

Darren "The Damage" Elkins

Dennis "The Menace" Bermudez

"The Korean Superboy" Dooho Choi

Frankie "The Answer" Edgar

Gray Maynard

Jeremy "Lil' Heathen" Stephens

Jose Aldo "Junior"

Josh Emmett [4th Update] (NEW)

Makwan "Mr. Finland" Amirkhani

Max "Blessed" Holloway (Champion)

Mirsad Bektić

Myles "Fury" Jury

Renan "The Baron" Barão

Renato "Jucao" Moicano Carneiro (NEW)

Ricardo "The Bully" Lamas

Teruto "Yashabo" Ishihara (NEW)

"The California Kid" Urijah Faber (FeW)

Yair "El Pantera" Rodriguez

Zabit Magomedsharipov [8th Update] (NEW)
Lightweight: (Combined Weights: Lightweight, Welterweight, Openweight [Tournament only])
Abel "Killa" Trujillo

Alexander "The Great" Hernandez [11th Update] (NEW)

"Raging" Al Iaquinta

Anthony "Showtime" Pettis

Beneil "Benny" Dariush

"The Prodigy" BJ Penn (LW)

Bobby "King" Green

Bruce "The Dragon" Lee '73 (LW) [DLC/Unlockable]

Chad "The Disciple" Laprise

"The Korean Zombie" Chan Sung Jung (LW)

Clay "The Carpenter" Guida (LW)

"The Notorious" Conor McGregor (LW) (Champion)

Daniel "The Hangman" Hooker (LW)

Diego "Lionheart Nightmare" Sanchez

Donald "Cowboy" Cerrone

Dustin "The Diamond" Poirier

Eddie "The Underground King" Alvarez

Edson "Junior" Barboza

Evan Dunham

Frankie "The Answer" Edgar (LW)

Gilbert "Durinho" Burns

Gilbert "El Nino" Melendez

Jake "The Celtic Kid" Matthews

James "The Texecutioner" Vick

Jim "A10" Miller

"Irish" Joe Duffy

Joe Lauzon

Justin "The Highlight" Gaethje (NEW)

Kevin "The Motown Phenom" Lee (NEW)

Khabib "The Eagle" Nurmagomedov

Leonardo Santos

Marc "Bonecrusher" Diakiese (NEW)

Michael "Maverick" Chiesa

Michael "The Menace" Johnson

Nate Diaz

Nik "The Carny" Lentz

Olivier "The Quebec Kid" Aubin-Mercier

Paul "The Irish Dragon" Felder

Rafael dos Anjos

Ross "The Real Deal" Pearson

Rustam "Tiger" Khabilov

"Super" Sage Northcutt

Tony "El Cucuy" Ferguson

"Ill" Will Brooks (NEW)

Yancy Medeiros
Welterweight: (Combined Weights: Welterweight, Openweight [Tournament only])
Alan "Brahma" Jouban (NEW)

Alex "Cowboy" Oliveira (NEW)

Ben "Killa B" Saunders

"The Prodigy" BJ Penn (WW)

Bruce "The Dragon" Lee '73 (WW) [DLC/Unlockable]

"The Natural Born Killer" Carlos Condit

CM Punk

Colby "Chaos" Covington [1st Update] (NEW)

"The Notorious" Conor McGregor (WW)

Dana White [2nd Update] (NEW)

Darren "The Gorilla" Till (NEW)

Demian Maia

Donald "Cowboy" Cerrone (WW)

Dong Hyun "Stun Gun" Kim

Erick "The Tiger" Silva

Georges "Rush" St-Pierre

Gunnar "Gunni" Nelson

Hector "Lightning" Lombard

Hyun Gyu "The Ace" Lim

Jake "The Juggernaut" Ellenberger

Jake "The Celtic Kid" Matthews (WW)

Joe Rogan [Unlockable]

Johny "Bigg Rigg" Hendricks

Jordan "Young Gun" Mein

Jorge "Gamebred" Masvidal

Kamaru "The Nigerian Nightmare" Usman (NEW)

Kelvin Gastelum

Leon "Rocky" Edwards (NEW)

Matt "The Immortal" Brown

Matt Hughes '06

Matt "The Terror" Serra '07 [7th Update] (NEW)

Mickey Gall (NEW)

Mike "Platinum" Perry [4th Update] (NEW)

Mike "Quicksand" Pyle

Nate Diaz (WW)

Neil Magny

Nick Diaz

Omari "Wolverine The Cat" Akhmedov

Pascal "Panzer" Krauss

Rafael dos Anjos (WW)

"Ruthless" Robbie Lawler

Royce Gracie '06

Ryan LaFlare

Santiago "Gente Boa" Ponzinibbio (NEW)

Stephen "Wonderboy" Thompson

Tarec "Sponge" Saffiedine

Thiago "The Pitbull" Alves

Tim "The Dirty Bird" Means

Tom Breese (NEW)

Tyron "The Chosen One" Woodley (Champion)

Yancy Medeiros (WW)
Middleweight: (Combined Weights: Welterweight, Middleweight, Openweight [Tournament only])
Anderson "The Spider" Silva

Brad Tavares

Bruce "It's Time" Buffer [Unlockable] (NEW)

C.B. "The Doberman" Dollaway

Cezar "Mutante" Ferreira

"The American Gangster" Chael Sonnen '12

Chris "The All-American" Weidman

Dana White (MW) [2nd Update]

Dan "Hendo" Henderson

Daniel Kelly (NEW)

David Branch [8th Update] (NEW)

Demian Maia (MW)

Derek Brunson

Elias "The Spartan" Theodorou

Georges "Rush" St-Pierre (MW)

Israel "The Last Stylebender" Adesanya [10th Update] (NEW)

Johny "Bigg Rigg" Hendricks (MW)

Kelvin Gastelum (MW)

Krzysztof Jotko (NEW)

Luke Rockhold

Lyoto "The Dragon" Machida

Michael "The Count" Bisping

Nate "The Great" Marquardt

Nick Diaz (MW)

Paulo "The Eraser" Costa [4th Update] (NEW)

"Suga" Rashad Evans

"Ruthless" Robbie Lawler (MW)

Robert "The Reaper" Whittaker (Champion)

Ronaldo "Jacaré" Souza

Royce Gracie '06 (MW)

"Smile'N" Sam Alvey

Thales Leites

Tim "The Barbarian" Boetsch

Uriah "Prime Time" Hall

Vitor "The Phenom" Belfort

"The Axe Murderer" Wanderlei Silva '10 [7th Update]

Yoel "Soldier of God" Romero
Light Heavyweight: (Combined Weights: Middleweight, Heavyweight, Openweight [Tournament only])
Alexander "The Mauler" Gustafsson
Anderson "The Spider" Silva (LHW)
Anthony "Rumble" Johnson
Antônio Rogério "Minotouro" Nogueira
C.B. "The Doberman" Dollaway (LHW)
"The American Gangster" Chael Sonnen '12 (LHW)
"The Iceman" Chuck Liddell '06
Corey "Overtime" Anderson
Dana White (LHW) [2nd Update]
Dan "Hendo" Henderson (LHW)
Daniel "DC" Cormier (Champion)
Forrest Griffin '08
Gian Villante
Glover Teixeira
Gökhan "The Rebel" Saki [1st Update] (NEW)
Ilir "The Sledgehammer" Latifi
Jan Blachowicz
Jimi "Poster Boy" Manuwa
Jon "Bones" Jones
Lyoto "The Dragon" Machida (LHW)
Mauricio "Shogun" Rua
Michael "The Count" Bisping (LHW)
Misha Cirkunov (NEW)
Ovince Saint Preux
Patrick Cummins
Quinton "Rampage" Jackson '08
"Suga" Rashad Evans (LHW)
"The Huntington Beach Bad Boy" Tito Ortiz '06 [7th Update] (NEW)
Vitor "The Phenom" Belfort (LHW)
Volkan "No Time" Oezdemir (NEW)
"The Axe Murderer" Wanderlei Silva '10 (LHW) [7th Update]
Heavyweight: (Combined Weights: Heavyweight, Openweight [Tournament only])
Aleksei "The Boa Constrictor" Oleinik

Alexander "Drago" Volkov (NEW)

Alistair "The Reem and The Demolition Man" Overeem

"The Natural" Andre Bishop [12th Update] (NEW) (From FIGHT NIGHT Champion)

Andrei "The Pit Bull" Arlovski

Antônio Rodrigo "Minotauro" Nogueira

Ben Rothwell

Cain Velasquez

Curtis "Razor" Blaydes (NEW)

Dana White (HW) [2nd Update]

Daniel "DC" Cormier (HW)

Dan "The Beast" Severn '96 (NEW)

Derrick "The Black Beast" Lewis

Fabricio "Vai Cavalo" Werdum

Francis "The Predator" N'Gannou (NEW)

Isaac "Ice Cold" Frost [12th Update] (NEW) (From FIGHT NIGHT Champion)

Junior "Cigano" dos Santos

Kimbo Slice '09 [7th Update] (NEW)

Mark "The Hammer" Coleman '09

Mark "Super Samoan" Hunt

Mirko "Cro Cop" Filipović '10 [7th Update]

Ruslan "Leopard" Magomedov

Stefan "Skyscraper" Struve

Stipe Miocic (Champion)

Tai "Bam Bam" Tuivasa [8th Update] (NEW)

Timothy Johnson (NEW)

Todd Duffee

Travis "Hapa" Browne