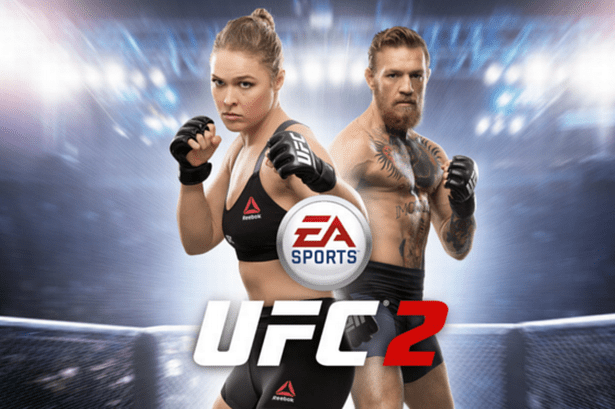 EA Sports UFC 2 serves as the sequel to the previous game, and was released for PlayStation 4 & Xbox One in March 15th, 2016 in America, and March 17th, 2016 in Europe.
The game features a massive 325 character roster (counting alternate versions) as well as 12 arenas. With Mike Goldberg & Joe Rogan calling the action, Mario Yamasaki & Yves Lavinge returning as referees alongside newly added referees Dan Miragliotta & Herb Dean, and Bruce Buffer returning as a ring announcer.
The arenas are as follows:
Air Canada Centre; Bell Centre; Honda Center; Madison Square Garden; MGM Grand; The O2 Arena; Prudential Center; Rio Arena; Saitama Super Arena; Staples Center; Toyota Center; United Center.
As for the roster, all 9 weight classes return, alongside a newly added weight class: The Women's Strawweight Division. As of now, thanks to patches and fighter updates, 279 unique fighters are playable with 46 alternate versions of existing fighters. An additional 22 male and/or female fighters can also be created to expand the roster count to 347 fighters. Like the previous game, additional fighters can be unlocked by completing certain tasks. Bruce Lee can be unlocked by either completing Career Mode (which will also unlock Bas Rutten, Kazushi Sakuraba and Modern & Classic versions of Mike Tyson as well) or having to save data from the previous game. You can also unlock Lee, Rutten, Sakuraba & Tyson as DLC by purchasing them in the Store. To unlock Joe Rogan, at the start screen, press Up, Up, Down, Down, Left, Right, Left, Right, Circle/B, Cross/A, Options/Menu (Start), and if done correctly, you'll hear a Joe Rogan soundbyte, which means he's now a playable character.
The roster consists of the following:
Women's Strawweight: (Combined Weight: Women's Bantamweight [Event Mode only])
Aisling "Ais the Bash" Daly (NEW)

Alexandra "Stitch" Albu (NEW)

Alex "Astro Girl" Chambers (NEW)

"Rowdy" Bec Rawlings (NEW)

Carla "Cookie Monster" Esparza (NEW)

Cláudia "Claudinha" Gadelha (NEW)

Felice "Lil Bulldog" Herrig (NEW)

"Hurricane" Heather Jo Clark (NEW)

Jessica "Jag" Aguilar [1st Update] (NEW)

Jessica Penne (NEW)

Joanna Jędrzejczyk (NEW) (Champion)

Joanne "JoJo" Calderwood (NEW)

Juliana "Ju Thai" Lima (NEW)

Kailin Curran (NEW)

Karolina Kowalkiewicz [4th Update] (NEW)

Maryna "Iron Lady" Moroz (NEW)

"The Karate Hottie" Michelle Waterson (NEW)

"12 Gauge" Paige VanZant (NEW)

Randa "Quiet Storm" Markos (NEW)

"Thug" Rose Namajunas (NEW)

Seo Hee Ham (NEW)

Tecia "The Tiny Tornado" Torres (NEW)

Valérie "Trouble" Létourneau (NEW)
Women's Bantamweight: (Combined Weight: Women's Bantamweight [Event Mode only])
Alexis "Ally-Gator" Davis

Amanda "The Lioness" Nunes (NEW)

Ashlee Evans-Smith (NEW)

Bethe "Pitbull" Correia (NEW)

"Alpha" Cat Zingano

Cris "Cyborg" [3rd Update] (NEW)

Elizabeth Phillips (NEW)

Germaine "The Iron Lady" de Randamie (NEW)

Holly "The Preacher's Daughter" Holm

Jéssica "Bate Estaca" Andrade (NEW)

Jessica "Evil" Eye (NEW)

Julianna "The Venezuelan Vixen" Peña (NEW)

Lauren Murphy (NEW)

Leslie "The Peacemaker" Smith (NEW)

Liz "Girlrilla" Carmouche

Marion "The Belizean Bruiser" Reneau (NEW)

Miesha "Cupcake" Tate (Champion)

Raquel "Rocky" Pennington (NEW)

"Rowdy" Ronda Rousey

Sarah Kaufman

Sara McMann

Valentina "Bullet" Shevchenko [3rd Update] (NEW)
Flyweight: (Combined Weight: Lightweight [Event Mode only])
Ali "Puncher" Bagautinov (NEW)

Chico "The King" Camus (NEW)

Chris "The Real Deal" Beal (NEW)

Chris "Kamikaze" Cariaso (NEW)

Demetrious "Mighty Mouse" Johnson (Champion)

Dustin Ortiz (NEW)

Henry "The Messenger" Cejudo (NEW)

Ian "Uncle Creepy" McCall

John "The Magician" Dodson

John Moraga (NEW)

Joseph "Jobi-Wan Kenobi" Benavidez

Jussier Formiga (NEW)

Justin "Tank" Scoggins (NEW)

Kyoji Horiguchi (NEW)

Louis "Da Last Samurai" Smolka [2nd Update] (NEW)

Patrick "Paddy" "The Hooligan" Holohan (NEW)

Ray "The Tazmexican Devil" Borg (NEW)

Sergio "The Phenom" Pettis (NEW)

Wilson Reis (NEW)

Zach "Fun Size" Makovsky (NEW)
Bantamweight: (Combined Weight: Lightweight [Event Mode Only])
Alex "Bruce Leroy" Caceres (NEW)

Aljamain "Funk Master" Sterling (NEW)

Brad "One Punch" Pickett

Bruce "The Dragon" Lee '73 [DLC\Unlockable]

Bryan "Kid Lightning" Caraway (NEW)

Chris "Holds it Down" Holdsworth (NEW)

Cody "No Love" Garbrandt (NEW)

Demetrious "Mighty Mouse" Johnson (BW)

Dominick "The Dominator" Cruz (Champion)

Eddie Wineland

Erik "Goyito" Pérez

Francisco "Cisco" Rivera Jr. (NEW)

Frankie Saenz (NEW)

Iuri "Marajó" Alcântara (NEW)

Jimmie "El Terror" Rivera (NEW)

Joe "One Bad Mofo" Soto (NEW)

John "The Magician" Dodson (BW)

John "Hands of Stone" Lineker (NEW)

Johnny Eduardo (NEW)

Manvel "The Anvil" Gamburyan (NEW)

Michael "Mayday" McDonald

Mitch Gagnon (NEW)

Raphael Assunção (NEW)

Renan "The Baron" Barão

Scott "Young Guns" Jorgenson

Takeya Mizugaki

Thomas "Thominhas" Almeida (NEW)

T.J. Dillashaw

"The California Kid" Urijah Faber
Featherweight: (Combined Weight: Lightweight [Event Mode only])
Anthony "Showtime" Pettis
"The Prodigy" BJ Penn
Brian "T-City" Ortega (NEW)
Bruce "The Dragon" Lee '73 (FeW) [DLC\Unlockable]
Chad "Money" Mendes
"The Korean Zombie" Chan Sung Jung
Charles "do Bronx" Oliveira (NEW)
"Cassius" Clay Collard (NEW)
Clay "The Carpenter" Guida
"The Notorious" Conor McGregor (Champion)
Cub Swanson
Daniel "The Hangman" Hooker (NEW)
Darren "The Damage" Elkins (NEW)
Dennis "The Menace" Bermudez (NEW)
Dennis Siver
Diego Pereira "DB" Brandão (NEW)
Dominick "The Dominator" Cruz (FeW)
"The Korean Superboy" Dooho Choi (NEW)
Dustin "The Diamond" Poirier
Frankie "The Answer" Edgar
Hacran "Barnabe" Dias (NEW)
Jeremy "Lil' Heathen" Stephens (NEW)
José Aldo "Junior"
Makwan "Mr. Finland" Amirkhani (NEW)
Max "Blessed" Holloway (NEW)
Mirsad Bektić (NEW)
Myles "Fury" Jury
Nik "The Carny" Lentz (NEW)
Renan "The Baron" Barão (FeW)
Ricardo "The Bully" Lamas
Tatsuya "The Crusher" Kawajiri (NEW)
Thiago Tavares [4th Update] (NEW)
T.J. Dillashaw (FeW)
"The California Kid" Urijah Faber (FeW)
Yair "El Pantera" Rodriguez (NEW)
Lightweight: (Combined Weights: Lightweight, Welterweight [Event Mode only])
Abel "Killa" Trujillo (NEW)

"Raging" Al Iaquinta (NEW)

Anthony "Showtime" Pettis (LW)

Beneil "Benny" Dariush (NEW)

Benson "Smooth" Henderson

"The Prodigy" BJ Penn (LW)

Bobby "King" Green (NEW)

Bruce "The Dragon" Lee '73 (LW) [DLC\Unlockable]

Chad "The Disciple" Laprise (NEW)

"The Korean Zombie" Chan Sung Jung (LW)

Clay "The Carpenter" Guida (LW)

"The Notorious" Conor McGregor (LW)

Diego "The Dream" Sanchez

Donald "Cowboy" Cerrone

Dustin "The Diamond" Poirier (LW)

Eddie Alvarez

Edson "Junior" Barboza (NEW)

Evan Dunham (NEW)

Frankie "The Answer" Edgar (LW)

Gilbert "Durinho" Burns (NEW)

Gilbert "El Nino" Melendez

Gray "The Bully" Maynard

Jake "The Celtic Kid" Matthews (NEW)

James "The Texecutioner" Vick (NEW)

Jim Miller

"Irish" Joe Duffy (NEW)

Joe "J-Lau" Lauzon

Jose Aldo "Junior" (LW)

Khabib "The Eagle" Nurmagomedov

Leonardo Santos (NEW)

Michael "Maverick" Chiesa

Michael "The Menace" Johnson (NEW)

Nate Diaz

"Stormin'" Norman Parke (NEW)

Olivier "The Quebec Kid" Aubin-Mercier (NEW)

Paul "The Irish Dragon" Felder (NEW)

Rafael dos Anjos (Champion)

Rashid "Goretz Highlander" Magomedov (NEW)

Ross "The Real Deal" Pearson

Rustam "Tiger" Khabilov (NEW)

"Super" Sage Northcutt [1st Update] (NEW)

"The Fireball Kid" Takanori Gomi (NEW)

TJ Grant

Tony "El Cucuy" Ferguson (NEW)

Yancy "The Kid" Medeiros (NEW)
Welterweight: (Combined Weight: Welterweight [Event Mode only])
Albert "Einstein" Tumenov [3rd Update] (NEW)

Augusto "Dodger" Montaño (NEW)

Ben "Killa B" Saunders (NEW)

Benson "Smooth" Henderson (WW)

"The Prodigy" BJ Penn (WW)

Brandon "Rukus" Thatch (NEW)

Bruce "The Dragon" Lee '73 (WW) [DLC\Unlockable]

"The Natural Born Killer" Carlos Condit

CM Punk (NEW)

"The Notorious" Conor McGregor (WW)

Demian Maia

Donald "Cowboy" Cerrone (WW)

"The Stun Gun" Dong Hyun Kim (NEW)

Erick Silva (NEW)

Georges "Rush" St-Pierre

Gunnar "Gunni" Nelson

Hector "Showeather Lightning" Lombard

Hyun Gyu "The Ace" Lim (NEW)

Jake "The Juggernaut" Ellenberger

Joe Rogan [Cheat Code/1st Update] (NEW)

Johny "Bigg Rigg" Hendricks

Jordan "Young Gun" Mein (NEW)

Jorge "Gamebred" Masvidal (NEW)

Kelvin Gastelum (NEW)

Kenny Robertson (NEW)

Lorenz "The Monsoon" Larkin (NEW)

Martin "The Hitman" Kampmann

Matt "The Immortal" Brown

Matt Hughes '06

Mike "Quicksand" Pyle

Nate Diaz (WW)

Neil Magny (NEW)

Nick Diaz

Omari "Wolverine The Cat" Akhmedov (NEW)

Pascal "Panzer" Krauss

Patrick "The Predator" Côté [2nd Update] (NEW)

Rick "The Horror" Story (NEW)

"Ruthless" Robbie Lawler (Champion)

Rory "Red King" MacDonald

Royce Gracie '06

Ryan LaFlare (NEW)

Stephen "Wonderboy" Thompson (NEW)

Tarec "Sponge" Saffiedine

Thiago "Pitbull" Alves (NEW)

Tim "The Dirty Bird" Means (NEW)

Tyron "The Chosen One" Woodley
Middleweight: (Combined Weights: Welterweight, Middleweight [Event Mode only])
Anderson "The Spider" Silva

Brad Tavares (NEW)

C.B. "The Doberman" Dollaway (NEW)

Cezar "Mutante" Ferreira (NEW)

Chael "The American Gangster" Sonnen '12

Chris "The All American" Weidman

Constantinos "Costas" Philippou

Dan "Hendo" Henderson

Demian Maia (MW)

Derek Brunson (NEW)

Elias "The Spartan" Theodorou (NEW)

Gegard "The Dreamcatcher" Mousasi

Georges "Rush" St-Pierre (MW)

Ildemar "Marajó" Alcântara (NEW)

Josh "Anqa" Samman (NEW)

"The Gracie Hunter" Kazushi Sakuraba '00 [DLC/Unlockable] (NEW)

Kelvin Gastelum (MW)

Luke Rockhold (Champion)

Lyoto "The Dragon" Machida

Mark "The Filipino Wrecking Machine" Muñoz

Michael "The Count" Bisping

Nate "The Great" Marquardt (NEW)

Nick Diaz (MW)

Rafael "Sapo" Natal (NEW)

Roan "Jucão" Carneiro (NEW)

"Ruthless" Robbie Lawler (MW)

Robert "The Reaper" Whittaker (NEW)

Ronaldo "Jacaré" Souza

Rory "Red King" MacDonald (MW)

Royce Gracie '06 (MW)

"Smile'N" Sam Alvey (NEW)

Thales Leites (NEW)

Tim "The Barbarian" Boetsch (NEW)

Tim Kennedy

Uriah "Prime Time" Hall (NEW)

Vitor "The Phenom" Belfort

Yoel "Soldier of God" Romero
Light Heavyweight: (Combined Weights: Middleweight, Heavyweight [Event Mode only])
Alexander "The Mauler" Gustafsson

Anderson "The Spider" Silva (LHW)

Anthony "Rumble" Johnson

"Little Nog" Antônio Rogério "Minotouro" Nogueira

Bas "El Guapo" Rutten '99 [DLC/Unlockable] (NEW)

Chael "The American Gangster" Sonnen '12 (LHW)

Chris "The All American" Weidman (LHW)

"The Iceman" Chuck Liddell '06

Corey "Beastin 25/8" Anderson (NEW)

Dan "Hendo" Henderson (LHW)

Daniel "DC" Cormier (Champion)

Fabio "Caipira de Aço" Maldonado (NEW)

Forrest Griffin '08

Gegard "The Dreamcatcher" Mousasi (LHW)

Gian Villante (NEW)

Glover Teixeira

Ildemar "Marajó" Alcântara (LHW)

Ilir "The Sledgehammer" Latifi (NEW)

Jan Blachowicz (NEW)

Jimi "Poster Boy" Manuwa (NEW)

Jon "Bones" Jones

"The Gracie Hunter" Kazushi Sakuraba '00 (LHW) [DLC/Unlockable]

Lyoto "The Dragon" Machida (LHW)

Mauricio "Shogun" Rua

Michael "The Count" Bisping (LHW)

"Iron" Mike Tyson '87 [DLC/Unlockable] (NEW)

"Iron" Mike Tyson [DLC/Unlockable] (NEW)

Nikita "The Miner" Krylov (NEW)

Ovince "OSP" Saint Preux (NEW)

Patrick "Durkin" Cummins (NEW)

Quinton "Rampage" Jackson

Rafael "Feijão" Cavalcante (NEW)

"Suga" Rashad Evans

Ryan "Darth" Bader

Sean "The Real OC" oConnell (NEW)

Vitor "The Phenom" Belfort (LHW)
Heavyweight: (Combined Weight: Heavyweight [Event Mode only])
Alexey "The Boa Constrictor" Oleynik (NEW)

Alistair "The Reem" Overeem

Andrei "The Pit Bull" Arlovski

Antônio Rodrigo "Minotauro" Nogueira
Antônio "Bigfoot" Silva

Bas "El Guapo" Rutten '99 (HW) [DLC/Unlockable]

"Big" Ben Rothwell (NEW)

Cain Velasquez

Daniel "DC" Cormier (HW)

Derrick "The Black Beast" Lewis (NEW)

Fabricio "Vai Cavalo" Werdum (Champion)

Frank Mir

Gabriel "Napão" Gonzaga (NEW)

Jared "The Big Show" Rosholt (NEW)
Jon "Bones" Jones (HW)
Josh "The Warmaster" Barnett (NEW)
Junior "Cigano" dos Santos

"The Gracie Hunter" Kazushi Sakuraba '00 (HW) [DLC/Unlockable]

Mark "The Hammer" Coleman '09

Mark "Super Samoan" Hunt

Matt Mitrione (NEW)

"Iron" Mike Tyson '87 (HW) [DLC/Unlockable]

"Iron" Mike Tyson (HW) [DLC/Unlockable]

Mirko "Cro Cop" Filipović '10 (NEW)

Pat "HD" Barry

Roy "Big Country" Nelson

Ruslan "Leopard" Magomedov (NEW)

Shawn "The Savage" Jordan (NEW)

Stefan "Skyscraper" Struve (NEW)

Stipe Miocic

Todd Duffee (NEW)

Travis "Hapa" Browne