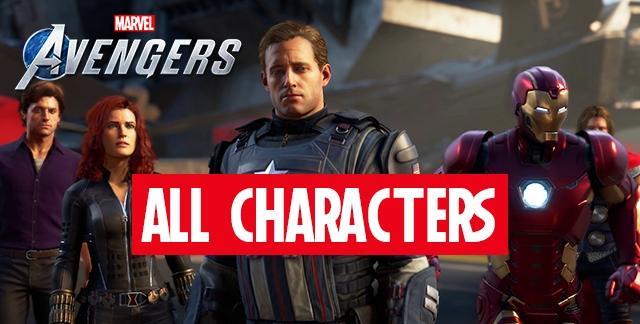 In this page you can find the complete list of all Marvel's Avengers characters confirmed so far for the upcoming Marvel's game by Square Enix. The video game will release in September for Xbox One, PlayStation 4, Windows PC, and Google Stadia.
Full list of Marvel Avengers Game Characters, Super Heroes, & Villains:
Captain America
Iron Man
Hulk
Black Widow
Thor
Ms. Marvel
Ant-Man (Hank Pym)
Abomination

(Villain)

Taskmaster

(Villain)

More Coming Soon

The Marvel's Avengers complete roster list includes all the playable Heroes available in the game confirmed so far by Square Enix.
The original Avengers will be all playable in the game, while additional Super Heroes like Ant-Man could potentially be playable characters but it's still unconfirmed.
Square Enix also confirmed you'll be able to customize all these iconic Avengers Heroes in nearly limitless ways, combining original, fan-favorite, and classic outfits.
More superheroes will be added to this Marvel Avengers Roster page soon. Keep checking!


Avengers DLC Super Heroes List:
More Super Heroes will be added in the future in Marvel's Avengers with Square Enix stating that every new Super Hero and region will be delivered to players at no additional cost.


The Marvel's Avengers game will release on September 4, 2020, for PlayStation 4, Xbox One, Windows PC, and Google Stadia.