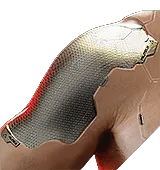 The Supra-Dermal Weave is a Cyberware of type Integumentary System in Cyberpunk 2077.
The Supra-Dermal Weave is available in the following Rarities: Rare.
Below you find all the details on how to get the Supra-Dermal Weave, the location where to find it, its effects, price and unlock requirements for each of the Rarity variants.
Cyberware Type

Integumentary System

Rarity

Rare

Description

Grants full immunity against bleeding.
Cyberware Details per Rarity

| Rarity | Price | Description / Effect | Requirement | Location |
| --- | --- | --- | --- | --- |
| Rare | €$ 12,000 | Grants full immunity against bleeding. | Body 12 | Dr. Chrome in Watson |