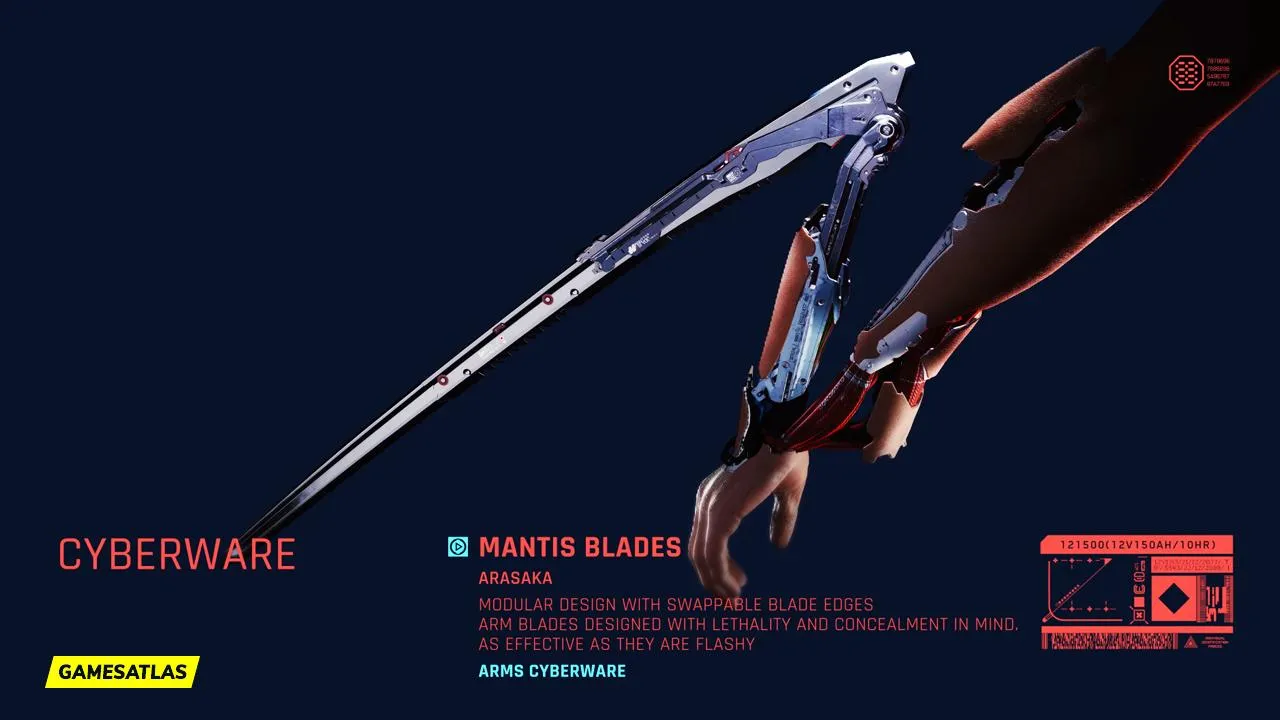 The Mantis Blades is a Cyberware of type Arms Cyberware in Cyberpunk 2077. It's created by Arasaka.
The Mantis Blades is available in the following Rarities: Rare, Epic, Legendary.
To buy Mantis Blades you need 20 Street Cred.
Mantis Blades

Stats:
Mantis Blades allow you to slice and dice your enemies with swift, deadly slashes. They also unlock the ability to leap towards a target and deal massive damage. To do so, hold and release RT / R2.
Mantis Blades deal Physical damage. Due to the blades' inherently fast attack speed and combos, they can rapidly deal devastating damage, granting a higher chance to dismember the enemy. Very effective against an individual target.
Below you find all the details on how to get the Mantis Blades, the location where to find it, its effects, price and unlock requirements for each of the Rarity variants.
Cyberware Type

Arms Cyberware

Manufacturer

Arasaka

Rarity

Rare

Epic

Legendary

Description

Two deadly blades useful for melee combat and to lunge at enemies. Rarity gives more mod slots available.
Cyberware Details per Rarity

Rarity
Price
Description / Effect
Requirement
Location

Rare

€$ 15,350

1 mod slot

-

-

Epic

€$ 25,250

2 mod slots

-

Ripperdoc at Rancho Coronado, Santo Domingo

Legendary

€$ 100,250

3 mod slots

-

Ripperdoc at Downtown, City Center
Ripperdoc at Heywood, Wellsprings