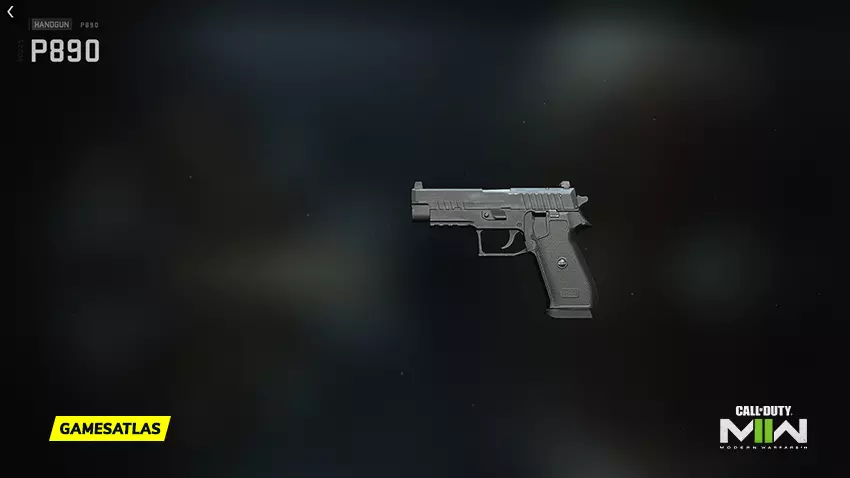 The P890 is a weapon featured in Call of Duty: Modern Warfare 2 (2022), it is one of the Handguns available in the game.
The P890 was released in Modern Warfare 2 with the launch of the game on October 28, 2022, and on Warzone 2 when the game releases on November 16, 2022, along with Season One.
The design of the P890 is based the real-life gun SIG Sauer P220.
The P890 is part of the Bruen 890 Platform family of weapons.
Here you can find the main information about the weapon, the best P890 loadout for the MW2 multiplayer and Warzone, and the complete Weapon Blueprints list for the P890 available in COD Modern Warfare 2 and COD Warzone 2.
P890
For close-quarters situations, the P890 semi-automatic pistol takes advantage of accuracy, reliability, and a hard-hitting .45 Auto round. Subsonic ammo hides kill skulls from the enemy team.
P890 Weapon Info
P890 Blueprints List in Warzone 2 and Modern Warfare 2:
You can see the full list of all the blueprints for the P890 released in Modern Warfare 2 and Warzone 2 via Store Bundles, Season Pass, or challenges.
Click on a Blueprint to see their specific attachments and how to build them in the Gunsmith menu. Here are all the blueprints for the P890 in MW2 and Warzone 2:
List of Attachments Unlockable with the P890 in MW2 and Warzone 2:
Here are all the attachments that you can unlock with the P890 in MW2: