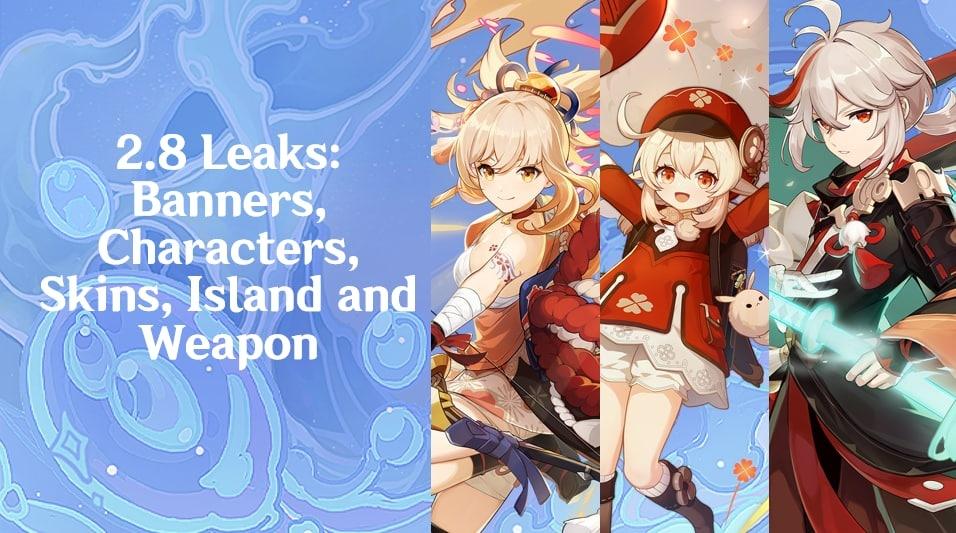 The 2.7 version of Genshin Impact was released just last week with the new 5-star character Yelan and the upcoming Arataki Itto banner with the new 4 star Kuki Shinobu. However, there have been many leaks of the 2.8 release and the new characters with the update.
All the leaks referred to in the article are from the insiders and beta testers for the 2.8 version. However, do keep in mind that these leaks are always subject to change and take this with a pinch of salt.
With that said, this article will detail the current leaks on the new characters in the 2.8 update, the new skins, weapon and area.
2.8 Banners
As Hoyoverse always uploads some information about the new characters 2 patches before their release, it is safe to assume that Heizou is the only new character that will be released with the 2.8 update. As such, we are likely to have 2-4 rerun banners due to the lack of new 5 star characters. For more information on Heizou, do look out for my future article on his skills and leaks!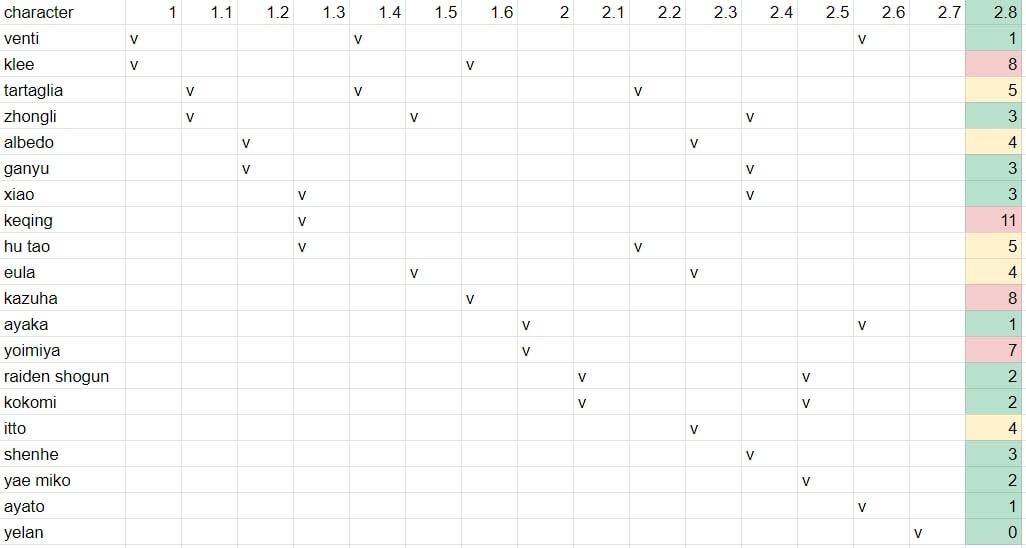 Looking at this spreadsheet, we can guess that the upcoming rerun characters could be Kazuha, Klee or Yoimiya. It is unlikely that we have a standard character on the event banner again. Given that Golden Apple Archipelago is having another rerun, it could be possible that Klee is related to the story quest and will be an upcoming banner. Shikanoin Heizou will likely be on Klee's rerun banner. Klee will allegedly be the 1st banner of the 2.8 update, while Kazuha and Yoimiya will be concurrent rerun banners in the second half. Additionally, rumours of an additional Kazuha chapter indicate that his upcoming rerun is likely.
Skins
There will be 2 new skins for Diluc and Fischl. As of now, there are no images of the new skins. However, Diluc's skin seems to have new effects, something that Keqing and Jean's skins did not have. You can see the new effect that comes with Diluc's skin here. As of now, their placeholder names are "Red Dead of Night" for Diluc and "Ein Immernachtstraum" for Fischl. This information was leaked by lumielumie and UBatcha respectively, which are reputable sources in the Genshin leaks community.
Golden Apple Archipelago
There will be a rerun of the Golden Apple Archipelago we saw in the 1.6 updates, though there have been some changes to make the islands permanent and larger. As of now, there is no time limit in the beta (while previously limited maps did), implying that the island is here to stay. While this is not a confirmation of its permanence, it is certainly different.
You can see a castle in the new Islands map below. Some believe that the castle is related to Fischl.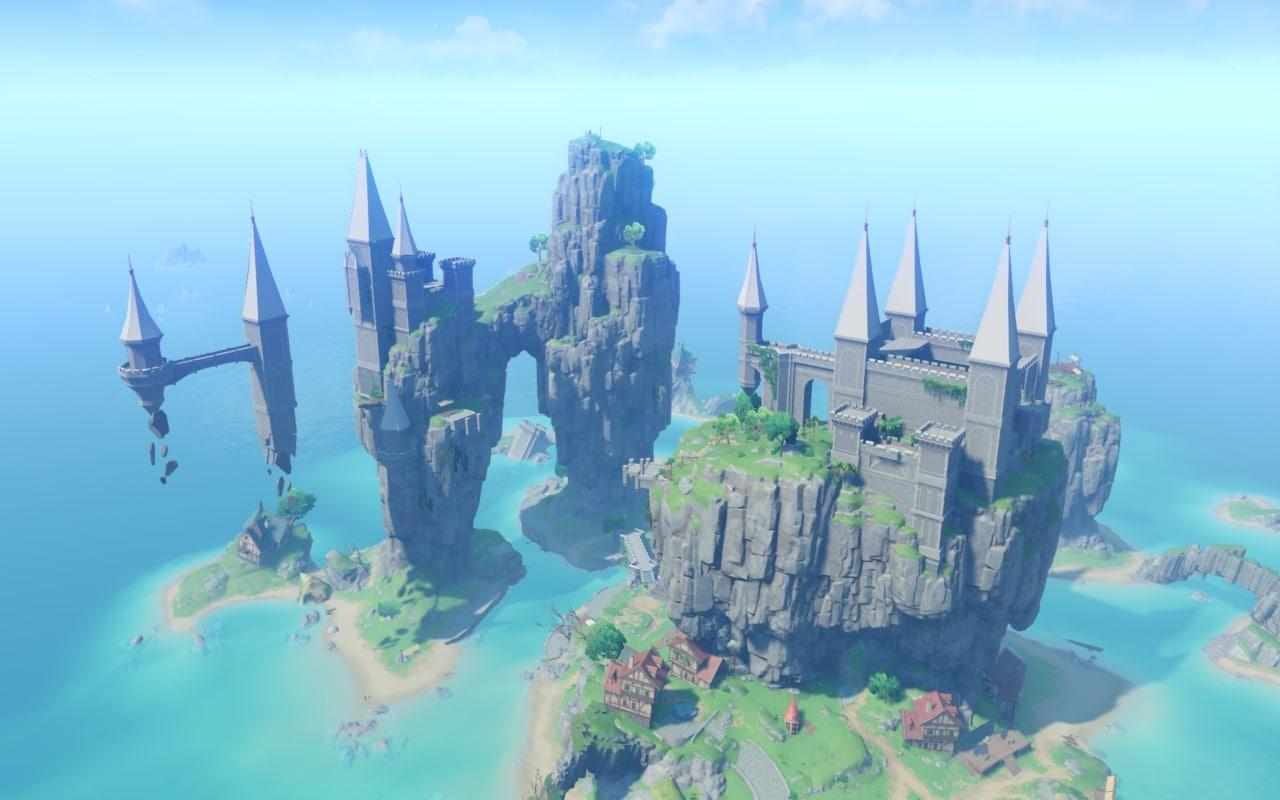 The main event is called "A Summer Sea Sojourn" and rewards an event currency similar to the Shiny Flotsam in the 1.6 updates. Players can use this currency to redeem a free Fischl. Leaker Project Celestia suggested that 2.8 features Fischl, Kazuha, Xinyan, Yun Jin, Mona, Venti, Xiangling and Nahida, aside from generic NPCs.
Free 4 Star Weapon
There will be a new free 4-star sword in the 2.8 updates. As of now, this sword does not have a name. At level 90, it has a Base ATK of 510 and a sub-stat of ATK which can hit 41.3%. The passive activates when a Normal, Charged, or Plunging Attack hits an opponent, which will whip up a Hewing Gale, dealing AoE DMG equal to 180% of ATK and increasing ATK by 15% for 8s. This effect can be triggered once every 8s. The sword and its required ascension materials are below.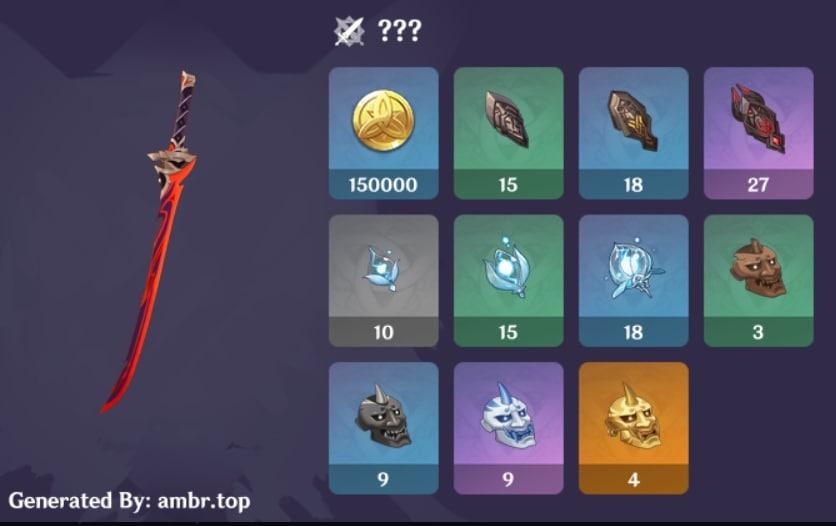 There are definitely many exciting updates to look forward to in the 2.8 version, so do keep your eyes peeled!
For more information on Yelan, you can check out my Yelan build article here. To learn how to build Xiao, you can refer to my article here or this article on his constellations and team compositions. Do lookout for more Genshin guides from me and let us know if there are other articles you would like to read!