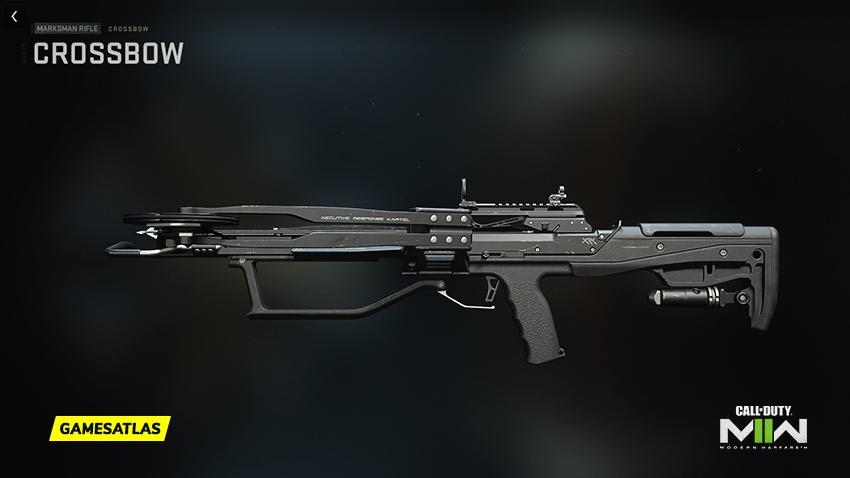 The Crossbow is a weapon featured in Call of Duty: Modern Warfare 2 (2022), it is one of the Marksman Rifles available in the game.
The Crossbow will be added to the game as part of the free content included in Season 2.
The design of the Crossbow is based the real-life gun Reverse Draw Crossbow.
Here you can find the main information about the weapon, the best Crossbow loadout for the MW2 multiplayer and Warzone, and the complete Weapon Blueprints list for the Crossbow available in COD Modern Warfare 2 and COD Warzone 2.
Crossbow Weapon Info
Crossbow Best Loadout in Modern Warfare 2:
Here's the best Crossbow loadout for Modern Warfare 2 multiplayer:
These are the best attachments setup for the MW2 Crossbow weapon, updated to December 2022.
This top Modern Warfare 2 Crossbow loadout is perfect for close to mid-range combat, giving you lower recoil and higher damage.
Crossbow Blueprints List in Warzone 2 and Modern Warfare 2:
You can see the full list of all the blueprints for the Crossbow released in Modern Warfare 2 and Warzone 2 via Store Bundles, Season Pass, or challenges.
Click on a Blueprint to see their specific attachments and how to build them in the Gunsmith menu. Here are all the blueprints for the Crossbow in MW2 and Warzone 2:
List of Attachments Unlockable with the Crossbow in MW2 and Warzone 2:
Here are all the attachments that you can unlock with the Crossbow in MW2: