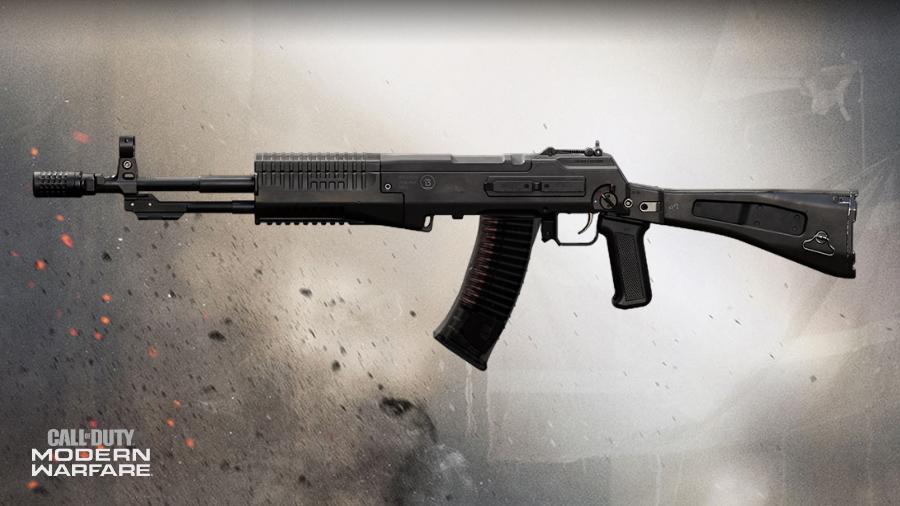 The AN-94 is a weapon featured in Call of Duty: Modern Warfare and Call of Duty: Warzone, it is one of the Assault Rifles available in the game.
The AN-94 was added to Modern Warfare and Warzone as part of the free content included in Season 5.
Here you can find all the weapon statistics and the complete Weapon Blueprints list for the AN-94.
AN-94 Weapon Info
Game

Modern Warfare

Weapon Class

Assault Rifles

Phonetic Alphabet

Lima

Fire Mode

Full-Automatic

Release

Season 5

Weapon Type

Primary Weapon

Warzone Ammo

AR/LMG

How To Unlock

Tier 31 of the Season 5 Battle Pass
Users Rating
Weapon Description
Cutting edge 5.45x39mm Russian rifle with a unique hyperburst feature. The initial shot from each trigger pull fires a rapid 2-round burst before perceived recoil is felt, creating a tightly grouped cluster with increased damage potential. This mechanism is fed by a canted magazine, and a reciprocating receiver helps keep control of the recoil.


AN-94 Statistics
Accuracy

74

Damage

73

Range

62

Fire Rate

68

Mobility

62

Control

71

Overall

68.33
AN-94 Blueprints List - Stats and Attachments Guide
AN-94 Attachments & Unlock Levels:
| MUZZLE | UNLOCK LEVELS |
| --- | --- |
| AN-94 Sonic Brake | ? |
| Flash Guard | ? |
| Tactical Suppressor | ? |
| Lightweight Suppressor | ? |
| Compensator | ? |
| Monolithic Suppressor | ? |
| BARREL | UNLOCK LEVELS |
| --- | --- |
| AN-94 Factory 330mm | ? |
| AN-94 Factory X-438mm | ? |
| VLK AN-94 Sila | ? |
| LASER | UNLOCK LEVELS |
| --- | --- |
| 5mW Laser | ? |
| 1mW Laser | ? |
| Tac Laser | ? |
| OPTIC | UNLOCK LEVELS |
| --- | --- |
| G.I. Mini Reflex | ? |
| Corp Combat Holo Sight | ? |
| Aim-Op Reflex Sight | ? |
| Scout Combat Optic | ? |
| APX5 Holographic Sight | ? |
| 4.0x Flip Hybrid | ? |
| Solozero Optics Mini Reflex | ? |
| VLK 3.0x Optic | ? |
| Operator Reflex Sight | ? |
| Sniper Scope | ? |
| Solozero NVG Enhanced | ? |
| Integral Hybrid | ? |
| Viper Reflex Sight | ? |
| PBX Holo 7 Sight | ? |
| Merc Thermal Optic | ? |
| Monocle Reflex Sight | ? |
| Canted Hybrid | ? |
| Variable Zoom Scope | ? |
| Cronen C480 Pro Optic | ? |
| Cronen LP945 Mini Reflex | ? |
| Thermal Hybrid | ? |
| POS-M3 Thermal Scope | ? |
| STOCK | UNLOCK LEVELS |
| --- | --- |
| AN-94 Factory Heavy | ? |
| FORGE TAC Ultralight | ? |
| Folded Stock | ? |
| FSS Close Quarters Stock | ? |
| VLK PX-9 Pero | ? |
| UNDERBARREL | UNLOCK LEVELS |
| --- | --- |
| Commando Foregrip | ? |
| Merc Foregrip | ? |
| 12-Gauge Deputy | ? |
| Bipod | ? |
| M203 40mm Recon | ? |
| M203 40mm Concussive | ? |
| Ranger Foregrip | ? |
| M203 40mm Flash | ? |
| M203 40mm Smokescreen | ? |
| M203 40mm Incendiary | ? |
| M203 40mm High-explosive | ? |
| Operator Foregrip | ? |
| AMMUNITION | UNLOCK LEVELS |
| --- | --- |
| 45 Round Mags | ? |
| 60 Round Casket Mags | ? |
| REAR GRIP | UNLOCK LEVELS |
| --- | --- |
| Granulated Grip Tape | ? |
| Stippled Grip Tape | ? |
| Rubberized Grip Tape | ? |
| Perk | UNLOCK LEVELS |
| --- | --- |
| Heavy Hitter | ? |
| Recon | ? |
| Frangible - Wounding | ? |
| Mo' Money | ? |
| FMJ | ? |
| Sleight of Hand | ? |
| Fast Melee | ? |
| Frangible - Disabling | ? |
| Fully Loaded | ? |
| Presence of Mind | ? |